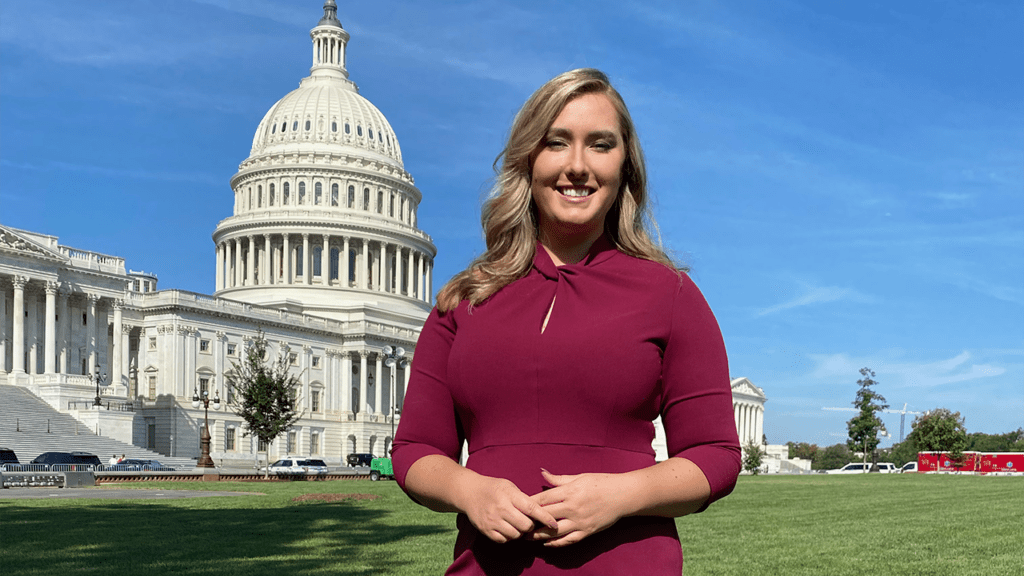 Rachel Knapp joined Lilly Broadcasting's Washington D.C. Bureau in October 2021.
Rachel was born and raised in Austin, Texas. Following in the footsteps of Walter Cronkite, Rachel earned a Bachelor's degree in Journalism from the University of Texas at Austin. During her time at UT, she was a member of the Pom Squad where she was able to cheer on her favorite team from the sidelines. Hook 'Em Horns! Rachel also interned and assisted the management staff for the Dallas Cowboys Cheerleaders during the television taping of their show "Making the Team – Season 8".
Rachel's journalism career began with an internship at Fox News Austin. She then joined the team at KXII in Sherman, Texas as a Reporter. Her investigative reporting gained international attention after she uncovered a local police chief's Neo-Nazi business. Another report from Rachel helped initiate a federal investigation into a local doctor's medical malpractice.
Rachel then moved to KRQE in Albuquerque, New Mexico where she was quickly promoted to the station's legislative reporter. She covered visits from President Donald Trump and Vice President Mike Pence, regular and special legislative sessions, and her investigative reporting highlighted issues with a controversial gun control law. Rachel also reported on the historic Virgin Galactic commercial space launch from New Mexico.
Rachel has a Master's degree in International Relations with a concentration on Africa from Norwich University. Her studies focused on government corruption, election fraud and terrorism in the region.
When she's not working, Rachel loves to travel – local and international. She has so far traveled to four continents. She is also moderately fluent in French, much of which she learned while living in Saint-Germain-en-Laye, France working as an Au Pair for triplet boys after she graduated college.
Rachel is excited to be a member of Lilly Broadcasting and report on the issues important to you from our nation's capital.
If you have a story idea or want to reach out to Rachel, send her an email.